Challenge
How do you scale a startup sustainably without increasing costs?
Solution
Assess what the most impactful changes may be, and rapidly test solutions.
Scope
Customer and stakeholder research, data analytics, prototyping
Context
Tembo is a fintech startup with the goal of becoming the homebuyer platform of choice for UK buyers. As house prices and interest rates continue to rise, homebuying becomes an increasingly distant dream for a large portion of potential buyers. So Tembo was conceived to enable customers who may have been turned down for standard mortgages to get onto the property ladder.
Unlike other mortgage brokers who only offer standard mortgage and remortgages, Tembo offers a wide range of products, from Guarantor mortgages to specialist buying schemes and shared ownership. This enables us to use our decisioning and technology to serve users a wide range of products to find them the best option to buy.
Objectives
When I joined Tembo they were just at the point of achieving product-market fit, so the main focus of my role was to round out the product offering and begin to scale up to bigger audiences. Tembo wanted to remain as lean as possible to control costs, so discussions around scaling were split equally between reducing inefficiencies and adding features.
There were three main areas that we wanted to look at in order to grow Tembo sustainably. We wanted to grow our pool of potential customers, reduce churn from the customers we did capture and as a result increase overall revenue.
Problem
During my time at Tembo we've used a range of techniques to identify issues relating to the three key areas for growth. With such a variety of problems to solve, and potential solutions, we needed to look broadly at areas to improve before focusing, while also retaining the ability to switch approaches when presented with new data.
We mapped out the whole customer lifecycle, including all customer touch points and the whole suite of tools that the teams use. User interviews with prospective, past and current customers, internal stakeholder interviews, mystery shopping the product, shadowing the CS and broker teams and even taking CS appointments.
Grow our market
Tembo was already gaining a reputation for family & booster mortgages, however this positioning meant that buyers without family support or booster, as well as standard mortgage customers would often not find Tembo an attractive offering.
Because we didn't have a wide range of products to offer, we would often qualify a customer as eligible, yet be unable to service them as we couldn't match their needs. This meant we wasted significant time on customers, as it was hard to place their needs without investing the up-front time to qualify them individually.
Reduce churn
With a small team and very manual processes, we were constrained on how many customers we could service at one time. This often meant that prospective customers could wait 2 or 3 days to be contacted by the CS team. In reality, customers were unwilling to wait that long, expecting more of a same-day service, so would go elsewhere to a competitor.
Those that did speak to the CS team and were qualified, would move into a longer-term funnel. Again we relied on manual processes to re-engage these customers when they were ready to buy, so it was very hit and miss on whether the customer was ready to proceed when we got back in contact.
Increase revenue
With the previous two problems, we were spending a large amount of money to acquire each user, who was at risk of churning from a slow pace of progress causing them to look elsewhere, less relevant products not matching their specific needs or the team's time was spent on lower-quality leads that were harder to convert. All this combined to mean that our user to submission cost was very high and so average revenue per customer was low.
Process
Grow our market
We realigned the brand and redesigned the homepage, marketing and landing pages to better surface our range of products and attract a wider range of customer types.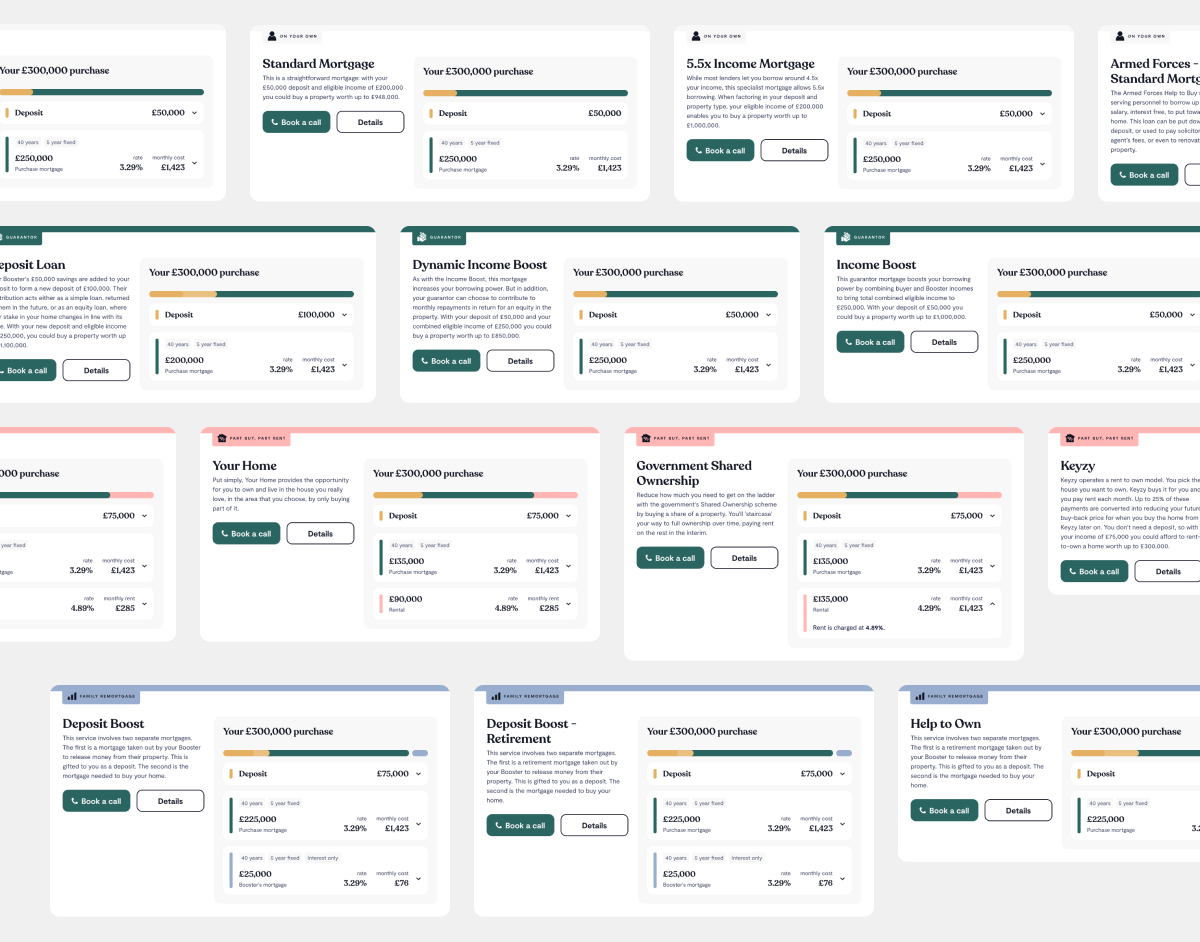 We rebuilt the fact-find with the data we needed to better qualify customers, and redesigned our plan views to better showcase the range of products we offer.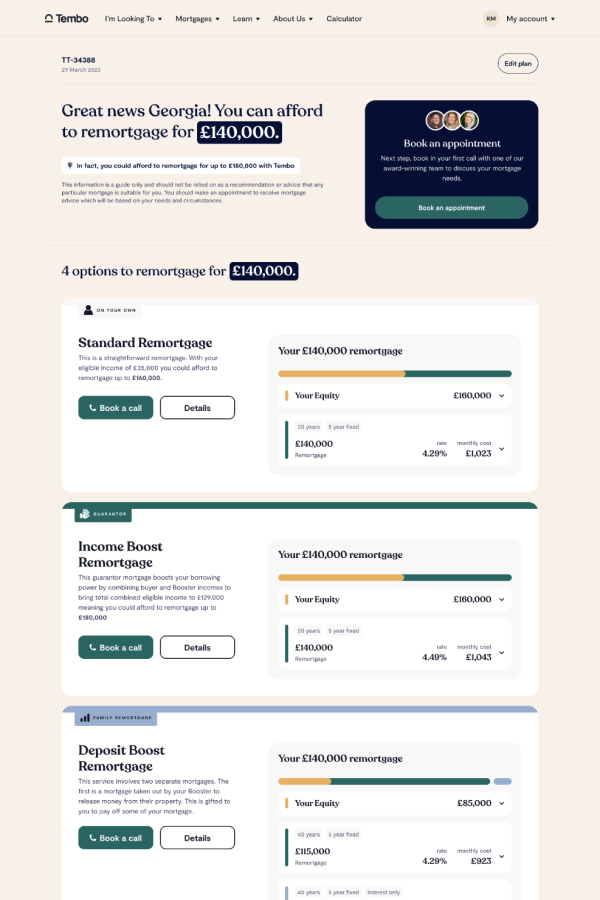 We launched a new remortgaging product, enabling Tembo to support customers who already had existing mortgages and wanted to switch rates or needed support to stay in their homes.
Reduce churn
Working with the marketing, CS, brokering and operations teams, we identified all the customer touchpoints and the information we collected at each one. This enabled us to reduce duplication and number of steps required, significantly speeding up the process for customers.
After creating a plan and speaking with the CS team, customers no longer really needed to use the Tembo app to get a mortgage. We created a Tembo account for all 25+ steps in the mortgage journey, enabling users to track their application, request appointments and upload documents without leaving the Tembo website.
Customers were sent emails from multiple systems, with inconsistent messaging and overlapping functionality. We rebuilt the entire onboarding, nurture and transactional communication funnels in a single email platform. This enabled us to create messaging that was significantly more relevant to users at different points in the homebuying process.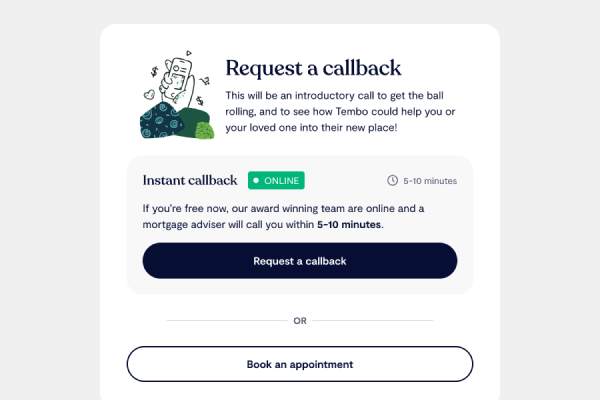 We knew customers were impatient and wanted to speak about their potential mortgage quickly, so we created an instant appointments component, enabling customers to request a callback that was actioned in less than 10 minutes.
Increase revenue
To help the CS and broker teams better understand which leads to prioritise and spend time on, we created a case grading system. Based on a number of factors including the customer's stage in the process, time to buy, affordability, income & outgoings, we ranked leads from SSS to C.
We gave the operations teams a custom view of customer plans, enabling them to view all customer details in one place, assess and research the case, and make changes when required.
We knew that the most impactful time for customers to consider income, life and critical illness protection is at the point that they get a mortgage for the first time. We added protection prompts and a custom flow for users to engage with and create potential incremental revenue for Tembo.
Outcomes
Taking an iterative and incremental approach to scaling Tembo, changing focus regularly to drive impact and value in the right places, meant that we were able to consistently achieve record months and quarters, despite the downturns in the mortgage and financial markets.
In the past 18 months, we've grown Tembo from MVP to product-market fit and a £5m series-A funding round, won awards for best newcomer, innovation of the year and best mortgage broker 2 years running at the British Bank Awards.
Impact
Organic visitors increased to nearly 40% of overall traffic, we had a 500% increase in the number of eligible plans created per month, and increased the percentage of eligible plans to 85%.
We reduced the time to contact from an average of 1.4 days, to under 4 hours, meaning we were significantly more likely to engage with and convert customers, as well as reducing the need for multiple calls and fact-find appointments.
We reduced the cost of submission by 87.5%, meaning that once fees were added we were close to making profit on each transaction. Out-of-month cases increased to 35% of submissions, meaning we were better at re-engaging with historical customers who were in longer-term nurture flows.